TechVision
+

Platform

A Smart Intelligent Vision Platform
An Intelligent Vision Platform That Just Works
The TechVision+ platform allows companies to leverage AI/ML, Vision, and Analytics to become a safer and more secure workplace that includes your people, places, and assets.
Computer Vision is an emerging technology and is being rapidly embraced by organizations across a diverse set of industries. Whether you are looking to develop solutions for a small specific use case or a broader vertical solution at scale our platform architecture is the right fit for just about any Intelligent Vision application.
In addition, TechVision+ can leverage IoT sensors to complement our Intelligent Vision solutions in providing people, vehicle, and asset tracking capabilities.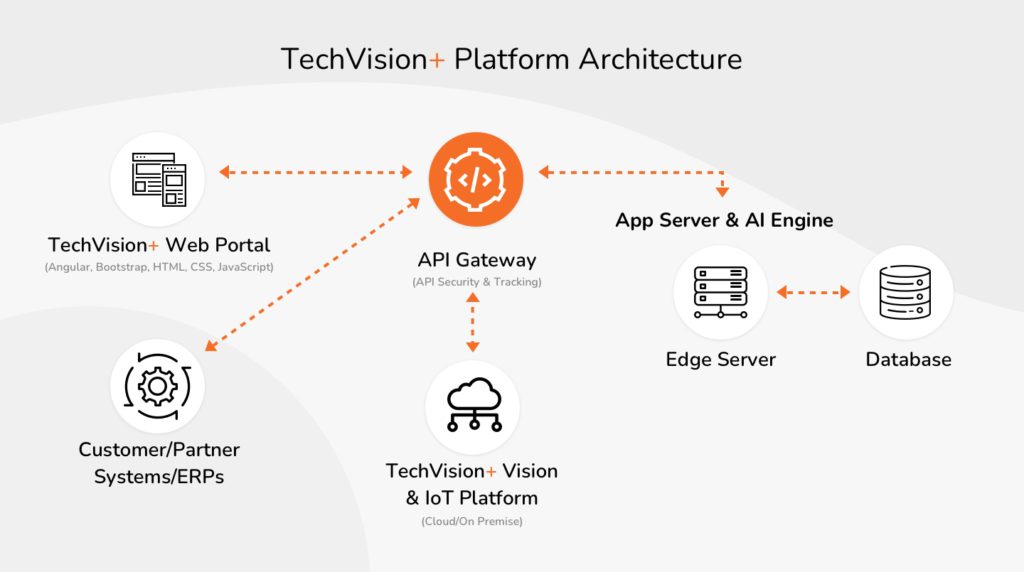 TechVision

+

Platform Features
AI Powered
The TechVision+ platform leverages widely accepted Deep Learning and Machine Learning Frameworks and Algorithms.
Utilizes Opensource Technologies
TechVision+ provides a Web Portal for the core solution features including:
User, device, location, and asset administration

Robust reporting, dashboards, and analytic insights with actionable outcomes and reports
The subscription cost of the platform is kept low by using robust open-source technologies and tools.
Cloud Native Development
TechVision+ platform is developed with cloud native services for ensuring that our platform scales quickly, highly robust and responsive, and is offered at an optimal cost.
Each part (applications, processes, etc.) is packaged in its own container to facilitate reproducibility, transparency, and resource isolation

Containers are actively scheduled and managed to optimize resource utilization

Platform components are segmented into microservices. This significantly increases the overall agility and maintainability of the platform
100% Cloud Based
TechVision+ is hosted on AWS cloud and provides:
24×7 global access and eliminating the need to manage software and hardware

Significant cost savings and greater flexibility
Edge Servers for Fast, Local Processing
TechVision+ provided AI processes on the edge. Scalability-on-demand is achieved by adding more Graphical Processing Units (GPUs) with 100% uptime
High Security, Scalability, and Availability
The platform proactively monitors for problems in production that may degrade service
Security: Authentication and Role-based access, Encryption of Data in Transit and at Rest
Scalability: Microservices and Containers are used for automating scale up or down based on user demand
Availability: High Availability through automatic failover, Redundancy ensuring critical systems have another identical component, multi-region configuration for app servers and database servers
TechVision
+

Intelligent Vision Our Customers Love us
"Played the technology & dev partner role to deliver the desired solution with a strong team across all aspects of the development life cycle. An excellent partner for firms to develop world-class applications by taking an idea, conceptualizing the design, creating the project structure with agile methodology, completing the development, and delivering a hosted cloud solution"
CEO, Arevea
"You have been an ideal partner for Accushield to produce a high-quality product. Your team quickly understood our business and has met several very aggressive deadlines that were critical to Accushield's success – with the attitude of being in-house team members rather than outsourced contractors. Thanks to your team for the great contributions you made to our success at Accushield!"
President, Accushield
"I am extremely glad to have you as dev partner and thoroughly enjoyed the working style of your highly motivated & committed team to deliver MVP in record time and on budget"
CEO, Bento Dental Management Platform
"We are delighted with the work done by your committed team in optimizing our package delivery and routing system by effectively using AI and computer vision"
Sr. Program Manager, Global Auto Major