Automating and optimizing your warehouse operations is no easy task. TechVision+ helps organizations from the moment a package is received and throughout the value chain of its lifecycle in the warehouse and transport. Our platform for supply chain and logistics includes some of the most innovative features in the industry today.
Our warehouse logistics optimization platform leverages cameras for Vision Analytics and IoT tags for people and forklifts tracking to bring automation and real-time visibility to your inbound (receiving to put-away) and outbound (pick & pack to shipment) processes.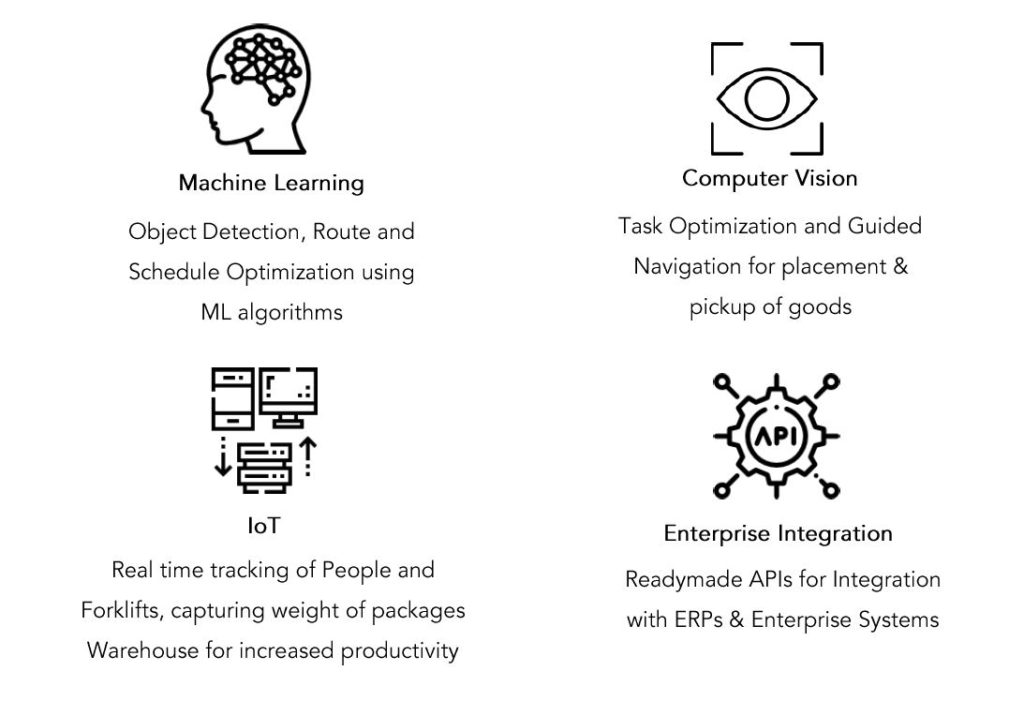 Our Solutions
Intelligent inspection of packed goods

Item inspection of packed goods with camera

Item verification and counting. Callout missing/wrong items

Measurement of box dimensions for CBM calculation

Guided placement & pickup of goods

Guided placement & pickup of products & packages in the warehouse using mobiles/wearables, beacons, location tracking sensors, and camera feeds

Checks for storage bin availability

Alerts on unplanned package movement

Smart package verification

Verify barcode, label position & label information with camera in unloading, staging & loading zones

Ensure acceptable package size & weight with camera and sensors

Verify cargo against receipts & customer orders with deep learning-based item detection & barcode

Callout missing/wrong items & packages that need a QC check

Real-time people & equipment tracking

Tracking people using IoT tags

The tracking availability of forklifts and their location for task interleaving

Dock door tracking

Real-time tracking of dock doors using cameras

Alerts on dock door availability and truck docking for unloading or shipping

Packaging optimization

Recommendations for carton/package space optimization based on dimensions and weight

Truckload optimization

Truckload planning based on cargo volume & weight

Goods condition capture for proof

Package condition capture at the time of unloading, after packing, and before shipment
Intelligent vision for better outcomes
TechVision+ helps in automating package verification, optimizing the pick and pack process, and tracking people and vehicles in the warehouse utilizing innovative intelligent vision solutions.