Automating and optimizing your warehouse operations is no easy task. TechVision+ is an advanced AI-assisted platform for the warehouse environment. It helps organizations from the moment a package is received at your warehouse till it is dispatched using Computer Vision solutions. Our platform includes some of the most innovative features in the industry today and is optimized for high-volume fulfillment centers, 3PL companies and cross-dock facilities.
Our warehouse optimization platform leverages vision analytics to bring automation and real-time visibility to your inbound (receiving to put-away) and outbound (pick & pack to shipment) processes.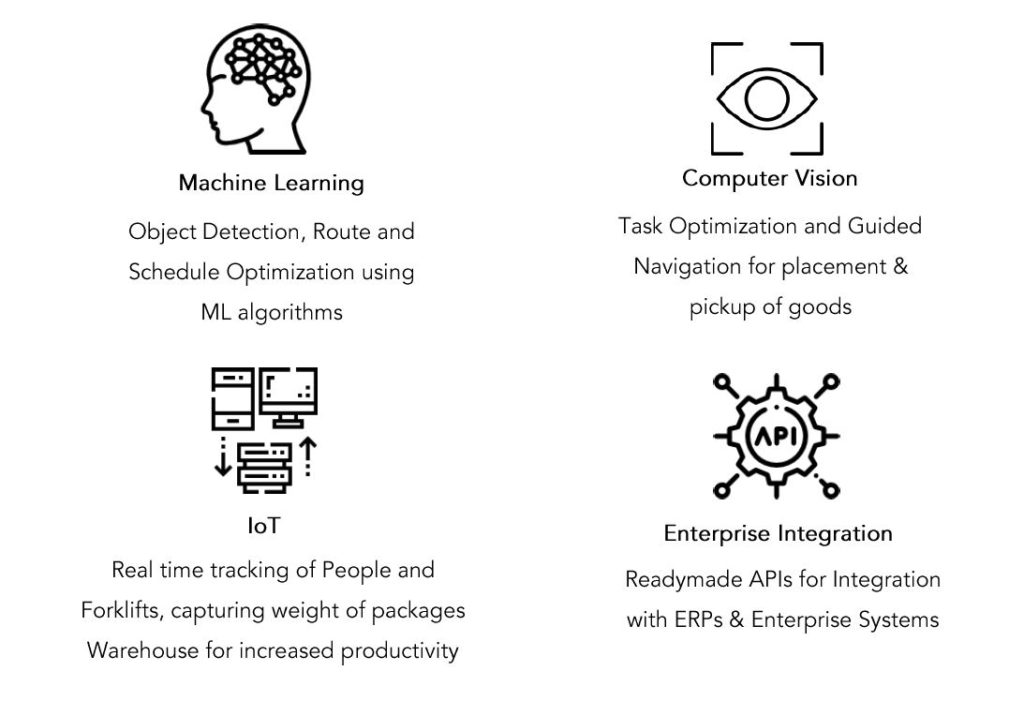 Our Solutions
Dock Door Tracking

Real-time tracking of dock doors using cameras

Alerts on dock door availability, truck arrival & departure


Real-time Area Visibility

Complete visibility into warehouse spaces

Indicate available storage areas on the floor for put away planning

Smart Item Detection & Verification

Scan barcodes and read text of the carton

Instant reconciliation against receipts & customer orders

Identify wrong items & packages that need a QC check

Real-time Pallet Tracking

Guided Put Way using Warehouse Maps, Cameras and AR

Capture exact put away location for pallet tracking

Real-time inventory visibility using floor map & live camera view

Guided Pickup for locating Pallets with items based on FIFO rules


Pick and Pack Optimization

Automating current manual inspection process of packed goods

Faster item verification and counting and callout missing/wrong items

Accurate counting of packets being loaded in a crate


Automated Box Dimensions Measurement

Recommendations for carton/package space optimization based on dimensions & weight

Truckload Planning based on cargo volume & weight


Real-time People & Equipment Tracking

Tracking people using IoT tags

Tracking availability of forklifts and their location for task interleaving


Goods condition capture for proof

Package condition capture at the time of unloading, after packing, and before shipment
Intelligent vision for better outcomes
TechVision+ helps in handling exceptions, reducing errors, automating package verification, optimizing pick and pack process, and tracking people & vehicles in the warehouse utilizing innovative intelligent vision solutions.